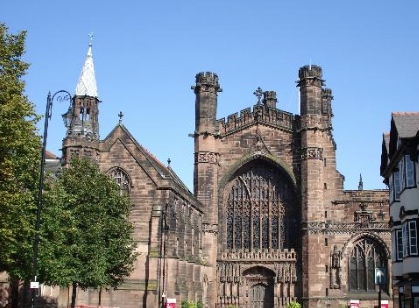 Most hen parties take place in destinations of wild and raucous nights however in 2014 The Chester Cathedral hosts it's first ever hen party in over 900 years.
According to the Chester First website, Hannah Lloyd has always wanted to climb the 216 steps up to the top of the Chester Cathedral and see for herself the stunning panoramic views of Chester.
It all came about when Hannah told her mate Anne Cody, she was getting married, now Anne knew Hannah wanted to climb the steps of the Cathedral and luckily she knew the Diocese of Chester.
So last Friday night Hannah Lloyd was the first ever hen to celebrate her hen party at Chester Cathedral on the strictest instructions that no alcohol was to be consumed on the tower tour, which is fair enough.
After the Cathedral tour she went into Chester for a few drinks, hen party business as usual then!
Hannah is set to marry Paul Jones on September 27th which she told reporters she was pretty sure he wasn't going to celebrate his Stag Do in a church!