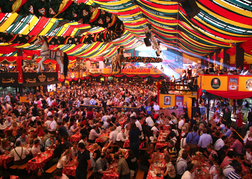 With the backdrop of the Bavarian Alps, Munich packs a stag party punch in so many ways, it really does have it all; welcoming people, great food and drink, interesting culture, history and architecture, plus plenty to see, do and join in with.

Oh go on then, let's start with the beer and work our way up from there. World famous for its OktoberFest, brought about by being the home of so many excellent breweries, boy these locals are professional party-throwers. And everyone is welcome. Though let's not pretend that the drinking stops after that month. Want to escape a British dry January? They're still pouring those steins of premium lager all year round in over 260 bars, pubs, breweries and clubs, come on over.

What goes hand in hand with beer? Food! There are high end gourmet restaurants a-plenty, or brilliant medieval banquets, but for a casual stag do we recommend the Alstadt area as it's handily pedestrianized allowing you to sway from bar to bistro to sample traditional specialities from the Müncher Weißwurst (their tasty version of a hot dog) pretzels, schnitzel and all those delicious Germanic face-stuffers that keep you going 'til it's time for cake…oh the CAKE! Munich's café culture is where it's at from breakfast through to late afternoon.