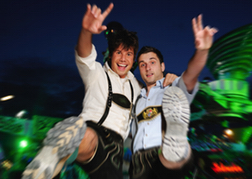 This Bavarian capital has such party power, we think you'll make this an annual trip just to try every out and see this city's amazing sights. One of the great things about a Munich stag do is playing the Daytime/Nighttime game. What's that? Well there's so much to do, you have to see if you can keep going right through the daytime and nighttime until you don't know which is which.

As there's a fair smattering of beer-involved activities like the famous annual Oktoberfest (what do you mean those over-shoulder-boulder-holders are scaring you!), beer bikes (don't even ask), brewery tours (so many breweries, so little time!) and bar crawls (obvs), the Daytime/Nighttime game blurs together quite quickly.
Mix that in with excellent nightlife including clubs and more bars (well there are over 260 in Munich – fortunately we've sussed out the best for you), and even a Strip Dinner and we think you'll be satisfied.