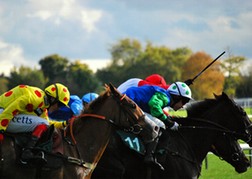 Basically Cheltenham is posh but packed with plenty going on and has a great vibe and buzz, where any self-respecting stag-do can let loose and live it up in style without the London price tag.

Shout yourself horse (see what we did there?) at famous Cheltenham Racecourse and spend your winnings alongside the celebs at the bar, or get full-on action-packed with a clay pigeon shoot, rage buggies, quad bikes, bubble football, even a gun-shooting combo...obviously these latters are outside town – can't have you ripping it up around the Promenade can we?

Challenge your posh-boy cred with our Tarzan Time adrenaline-junky boot camp. No jungle but plenty of swings, jumps, walls and drops tens of metres high. Must say, suddenly our civilized golf session is sounding far more cashmere…never forget, this is Cheltenham gents!