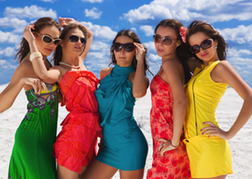 Tenerife boasts all year round beautiful sunshine along with lively nightlife making it an all year round incredible hen party resort.

Tenerife averages 80℉ throughout the year and the reason for this is it's proximity, it's closer to North Africa then Europe. Flying from the UK will take you approximately 4 – 5 hour depending on where you are departing from.

As Tenerife is owned by Spain and is the largest island in the Canary Islands you can spend your Euros and expect everything to be Spanish with a slight North African twist.

The liveliest resort in Tenerife is Playa De Las Americas or Las Americas and as you're a hen party we highly recommend this cracking resort.

Las Americas is on the southern tip of Tenerife sitting in the shadow of Mount Teide (pronounced tidy). Our tip is to stay south of Mount Teidi, anything North of gigantic mountain is apparently cloudier and cooler in the summer and winter months, and you don't want that.