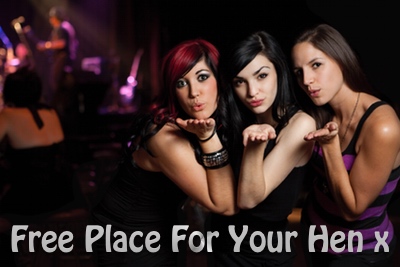 The Hen Goes For Free
That's right people the hen will pay NOTHING, NADA, NOT A NOOKA…
One Giant Leap for the hen....
Let's face it, The Hen is about to pay a shed load of money on a wedding for all her family and friends including you, so what better way to help her out is to get the cost of his hen party covered.
Don't worry you don't have to pay any more money, well that's a good start. Providing your groups meets the credentials below, if your group doesn't, there are other ways to get her price covered, call us for more details:
Terms:
Hen goes for free providing there are
20
or more people attending the whole event.
Alternatively,
if your group has
15-19
people attending the whole event the Hen will get a ½ price discount off his place.
This offer is not valid in conjunction with any other DesignaVenture offer, discount, goodwill gesture, price matching or flight inclusive packages.
Now go and
Build Your Own Hen Party
and become a hero and get your best friend that free place she deserves.
Alternatively pick a package from our
Popular Hen Party Packages
, all you have to do is put in how much you want to spend, give us an idea of destination\s and you will have a list of packages show up quicker than you can eat a cup cake.