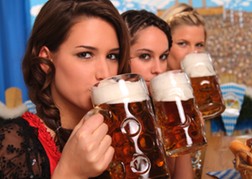 Ladies, if you thought Munich was just all beer festivals and Bratwursts, you need to look again. This gorgeous city, with the dramatic backdrop of the Bavarian Alps, really does have it all; great food and drink, interesting culture, history and architecture, shopping to die for and incredible spas and bars.

We think you'll love the Alstadt area for its party-central feeling. Handily pedestrianized and packed with bierkellers and eateries, it's a fun place to sway from bar to bistro to sample traditional specialties from the Müncher Weißwurst (their tasty version of a hot dog) pretzels, schnitzel and all those delicious Germanic face-stuffers that keep you going 'til it's time for cake…oh the CAKE! Munich's café culture is where it's at from breakfast through to late afternoon. Not too much cake though, or you won't be able to try anything on in all the lovely shops.

Munich loves it high-end gourmet restaurants and stages a brilliant medieval banquet but cruise down to Schwabing, the famous bohemian quarter, and you'll get an incredible blend of uber-cool glamour, exclusive shops, unique culture and magical open-air music in that Kate Moss/Caroline Flack kind of way.