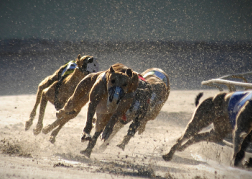 This age old sport is as much of a winner for a roaring hen party as it is for the boys and is a great alternative to horseracing. Embracing all ages it's an excellent all-rounder for a bit of anticipation, excitement, social atmosphere and of course you could come out quids in.

Greyhounds are born to race; they are slick, slim and very, very fast. The stadiums have an incredible atmosphere you will never forget, so soak it all up. Will yours be the favourite with its nose to the hare all the way, or the one who got distracted smiling at your camera on the last lap? Either way, there are plenty of well-stocked bars in which to celebrate your winnings or drown your sorrows.

Stay cosied up and gather within a perfect indoor viewing point with drinks and supper laid on, or get right down with the trackside action cheering your elegant pooch over the finish line. We know you'll be studiously choosing your winners by the colour of their sash or the cuteness of their name and that's as good a plan as any.