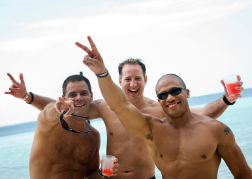 If year round sunshine and lively nightlife is what you are looking for then Tenerife is the chosen one, the all year round stag do resort. Just off the coast of Africa, Tenerife averages 80℉ most of the year and is about a 4 – 5 hour flight from the UK, depending on where you are departing from.

Tenerife is the largest island in the Canary Islands which are owned by Spain, so you can spend your Euros and expect similar food, drink and that all important Spanish resorts of where anything goes.

Tenerife's liveliest resort, ideal for stag parties, is Playa De Las Americas or Las Americas, which is on the southern tip of Tenerife sitting in the shadow of mount Teide (which is pronounced bang tidy). Anything North of Mount Teide is apparently cloudy in the winter so stay clear of Los Gigantes, which is full of the smell of mothballs and old people from Britain escaping the cold.