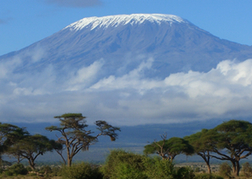 Fellas, are you searching for something really unique for your stag do? Do you want an amazing lasting memory to take with you into married life and beyond?

Then do something totally different and tick off an item on your bucket list at the same time! Book yourself and your best mates onto a Kilimanjaro Expedition and trek up the highest mountain in Africa.



About


Mount Kilimanjaro is in the Country of Tanzania, close to the borders of Kenya.


The summit is 5,895m above sea level (almost 6km high). Whilst trekking up this breathtaking snow-capped mountain you will pass through 5 distinct climatic zones. 

 These zones from the base to the summit are: Bushland, Rainforest, Moorland, Alpine Desert and Arctic Zone – basically hot and wet at the bottom to bloody freezing at the top.