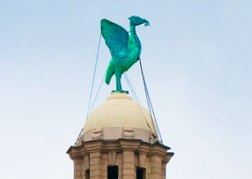 For all the thrill seekers of the group, Liverpool offers the usual suspects like paintballing and go-karting, as well as more energising sports like white water rafting and Go Ape tree top adventure, sorting the men from the mice and leaving you all raring to go for the evenings events.

Now onto the important part, the nightlife! Trip Advisor voted Liverpool the best nightlife of any UK city, which means your Stags will have a wicked time. With a mixture of bars, pubs and clubs, you'll be spoilt for choice. Start off your night with something to get you in the mood for some boyish antics. Whether it's a barrel of laughs at the Comedy club you seek or a dirty dance or two at one of the choice Lap Dancing Clubs, this city will always leave you wanting more. Venture into town and hit up concert Square for the popular haunts of a well-rounded night out.
Get the VIP treatment at The Docks, where you can reserve tables/booths and let the champagne flow all night with your own personal server. For something different visit Matthew Street for the ultimate pub-crawl in quirky pubs and bars, or visit Liverpool's Gay Quarter and party with the party people for a guaranteed top night.