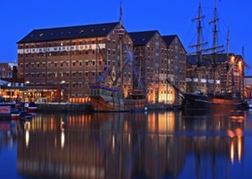 A lively little city with a beating heart of gold, Gloucester is a quirky, creative and fun filled choice for your Stag do. Packed with history and old Gloucester ale running through its veins you'll definitely enjoy its unique nightlife and sprinkling of ancient culture.

Gloucester's mammoth countryside gives you the ideal getaway from the daily grind, with miles of open landscape to either explore or rip up with a quad bike or rebel buggy.

Take part in Gloucester's finest and oldest tradition and chase a wheel of cheese down a hill. The annual cheese roll takes place at Coopers Hill and attracts competitors, celebrities and spectators from across the world.

Release your inner cosmopolitan man and set sail for the historic Gloucester docks. Enjoy amazing local entertainment and great men's shopping or step back in time with the chains and cogs of the original, restored dock machinery which decorates the vintage docklands. All set against backdrop of classic docklands landscape, Gloucester docks makes a perfect destination for any stag do.