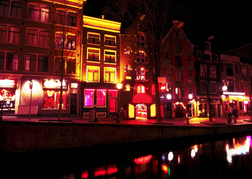 Amsterdam, the capital of the Netherlands, is one of the most popular stag destinations in Europe. This great small city of tolerance and diversity, is possibly most famous for its red light district and coffee shops which are a real eye opener and not for the excessive compulsive. It has all the advantages of a big city culture, cool cafes, restaurants, pulsating nightlife, chilled locals and good transport - thanks to its maze of meandering canals, there is little road traffic. This city is a top destination for any Husband to be, packed with heritage, class and a wicked nightlife!

Named as the cultural capital of the Netherlands, Amsterdam has plenty on offer for those seeking a more relaxed stag do experience with the option to visit shows at the theatre, the opera and a range of live music concerts and festivals. Not to mention the picturesque views of beautiful architecture across the city, dating back to the early 1300's as well as the usual suspects, with museums and galleries peppered throughout.

For a completely different cultural experience, take a cruise down the canals of the city, taking in the sights and relaxing ready for the evening ahead. Or head over to the Red Light District, and get an eyeful of the glorious sights to be seen, believe us nothing is left to the imagination here. Maybe one of the lads will even get lucky!