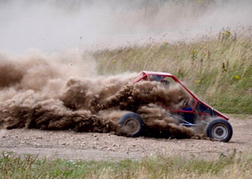 This is our most sought-after stag activity and we are not surprised because Rage Buggies are immense.

As mentioned on BBC's Top Gear, these Mad Max style race karts with 600cc v-twin Honda powered engines, are fast, fun and very safe, in fact they are the mutts nuts of mud buggies!

Open on all sides but surrounded with a sturdy roll cage, you might get caked in mud as you rip along a challenging off road dirt track, but you'll have taken rallying to new heights. The low to the ground tough vehicles fly around hairpin bends, speed through chicanes and literally shake rattle and roll their way around the most impossible courses.