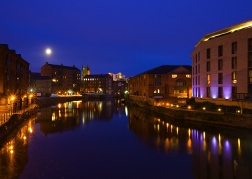 Set in the heart of the Yorkshire Dales, Leeds is a compact city with picturesque views. Having had some serious money spent on it over the past few years, it is one to keep your eye on, as one of the UK's up and coming places to be. Big on live music, being host to the hugely popular Leeds Festival, it's no wonder the city's slogan is 'Leeds, Live it, Love it'! This could be your party weekend destination.

Full to the brim culturally, Leeds offers something for everyone. This breathtaking city boasts about its stunning architecture. Take a chance to travel back in time in the many museums, seeing how the Victorians lived or envying knights in shining armour. View contemporary arts in the galleries across Leeds, or get a breath of fresh air walking around the numerous gardens.

Maybe you and your fellow friends fancy a bit of sporting action? This city has plenty to do with Rugby, Football and Cricket grounds proving a great tourist attraction, with plenty of opportunities to have a whack at it.