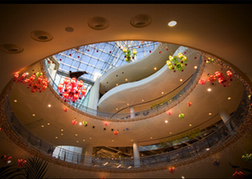 Birmingham, at the heart of the west midlands, this city is a major international commercial centre, as demonstrated through its wide selections of events year round. With plenty to do and see, as well as being renowned as a thriving student friendly city, let this top destination take you and your group on a weekend you'll never forget.

For those seeking a more culturally filled experience, Birmingham has and abundance of activities and sights to keep your party entertained. From its intricate architecture across the city, to the assortment of open spaces, with Sutton park being the largest park coving over 2,400 acres making it the largest urban nature reserve in Europe, unwind by taking in the beauties it has on offer.

The theatre and performing arts are a massive influence on this marvellous cities culture, with a mixed array of entertainment shown continuously, with the likes of ballet and opera to avant-garde productions, which take place in various venues across the city like factories and abandoned buildings. As well as art galleries scattered city wide, with artists works shown in exhibitions ranging from the modern and contemporary to landscape artists and surrealists. Lets not forget the many museums to visit where you can learn more about the history behind the city to chocolate making and steam engines.