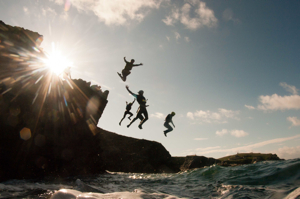 According to an article on the Get Surry website, Garrey Ashton whilst on a Stag Do to Newquay survived a 100 ft fall down a cliff, without serious injury.
Now we arrange Coasteering in Newquay in a safe environment as a popular Stag Do activity however he has taken it to a new level.
All jokes a-side, he was very lucky and this a warning to other stag parties celebrating in Newquay to only visit the cliffs whilst coasteering.
According to this article, Garry wasn't messing around, he had just taken back to his hotel, a disabled member of the stag party and was walking back to the 20-strong stag group when he decided to take a slight detour and take a quick peek at the sea. He stepped over a 3ft fence and suddenly slipped on gravel and tumble 100 ft.
He woke up on the beach 4 hours later with the sea lapping at his feet and in total shock on what just happened. He managed to get to his feet and climb some old staircase leading out of the cove to find his mates, who put him straight into an ambulance for Truro hospital.
He told the Get Surrey reporter "It was only supposed to be a little trip to the beach, I just took a bit of a shortcut, anyone who knows me knows I'm a bit clumsy. I guess it was a typical Stag Do overall!"
If you are interested in Coasteering for your Stag Do, you can find stag packages in Newquay including coasteering, here.