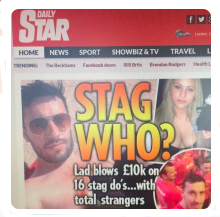 Will Stevenson is plastered all over the tabloids at the moment for attending 16 stag dos, travelling 31,000 miles in three months.
According to this article on the Daily Star, Will Stevenson first started in June by bidding and winning to go on a Stag Do to Budapest putting him back £460 all in.
This story was then picked up by Radio 1's DJ Scott Mills who covered the whole Stag Do event.
Will then became the man for the job to fill spare vacancies on stag dos. Grooms from around the country got in touch with him via his twitter feed (@Willhasabadger) requesting him to fill any space vacancies they may have on their Stag Do.
£10,000 later, and having visited Budapest, Ibiza 3 times, Barcelona twice, Munich, Blackpool, Tenerife, Gran Canaria, Magaluf, Madrid, Rome and Amsterdam and apparently, he is even scared of flying.
He also had a companion who didn't need a passport however at the start made some fellas on the stag dos feel uncomfortable, a stuffed toy Badger called Seth.
Seth features in many of the photographs and can be seen being held up by loads of sexy ladies, chilling out by the pool and even driving himself to Ibiza airport.
What's the future for this "The Wedding Ringer" type of guy?
Well according to his tweets, he looks to be starting a blog and is looking for more offers of stag trips in October.
So if you know any spare seats going on a Stag Do within the next few weeks you can contact him on his Twitter handle, @Willhasabadger.