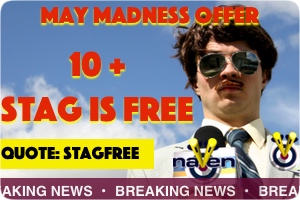 We are offering an incredible offer where your stag can go for free, that's right your stag will pay NOTHING, NADA, NOT A NOOKA, when you book any of our stag dos for 10 or more people – bear in mind this is usually 20 or more people, so it's quite the saving.
Do I have to give the discount to the stag or can I spread the saving across the whole group?
It's not compulsory that the discount has to be applied to the stag's place, it's basically up to the stag do organiser the person who books the stag do with DesignaVenture how this discount is applied.
Do I need to quote anything when booking?
Yes – when booking please quote: STAGFREE
Do I have to travel in May?
Not at all, you can book to travel in June, July or even May 2020, you just need to make your booking within the month of May 2019.
How much is the deposit?
The deposit to get a stag do booked with DesignaVenture is £30 in total. We have more details on our How To Book page including information on when your balance is due etc.
Does this offer apply to flight inclusive packages?
Unfortunately not. You can book a stag do abroad without flights and you would get the offer, just not a flight inclusive package.
So, don't delay, call 01432 830000 and claim your stag free place.