Reading stag dos are on the up, so let's see why:
First of all the Reading is a really easy location to get your stag party to, 5 minutes from the M4, a city centre train station and if you are feeling really flush, Heathrow is just 20 minutes away!
Eating out is a breeze, there are loads of restaurants from chains such as Giraffe and Las Iguanas to the independents such as the fantastic Chinese Palace.
You will also find drinking holes all over the place quenching your stag's thirst and giving him some brilliant venues to celebrate his last couple of days of being a free man.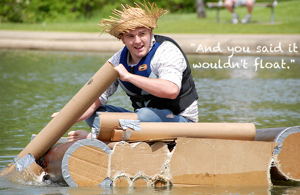 In the centre of Reading you will find the Oracle, the Oracle is full of fantastic bars and restaurants with a great atmosphere and lots of seating outside lining the Riverside.
Reading also boasts some pretty good 4 star hotels, all city centre, all 4 star quality and most importantly all Stag Do friendly thanks to DesignaVenture.
So now we have the nightlife covered and your digs, what can a stag party do in the day?
From Hovercrafts to Rage Buggies, Segways to The Cardboard Boat Challenge (as seen above), Horse racing at Ascot, Bathtub Kart Racing, Paintball, Indoor Karting there are simply too many to mention.
My advice to you is to get yourself over to the Reading stag do packages and get browsing, there's something for everyone, except for your Gran, that is.