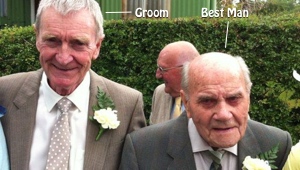 At 102, Dan Clement thought his days of partying and being a best man was well and truly over, well actually you couldn't be more wrong.
Not only did this plucky retired farmer become the oldest Best Man in the world (at 102 years of age), he also arranged the Stag Do and cracked the crowd up with his killer best man's speech about being a Ploughman and jokes about cows!
Dan's lifelong friend, Alex Sandy who is a spring chicken at 73 years old said that Dan's age was not even a consideration when it came to asking him to be best-man and didn't even know that it would break the world record.
The previous World Record for being the oldest best man was held by Ronald Hornby in Northern Ireland who was 96.
They also didn't duck out on a Stag Do, this consisted of sitting up most of the night drinking shots of whisky and bottles of wine around a  house in Cornwall, I would love to have been a fly on the wall on that night and heard all the old stories and jokes, totally awesome.
Alex Sandy who got married to Sue in Scotland (who met online) thought they were going to have a quiet wedding but the Guinness Book of World Records caught the media's attention and before they knew it there was TV camera's and paparazzi at the church!
The last and only other time Dan was a best man was in the 1940's, how mad is that?
All the above details was taken from an article on the Falmouth Packet website which you can find here.
We at DesignaVenture would like to wish Alex and Sue from St Austell all the luck in the world for their marriage and here's to Dan being asked again.