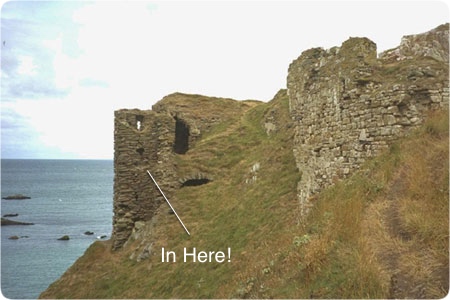 Now, when "the Groom" James told his best man he wanted an unusual stag do, his best man Dave Hunter, took this request to another level and created a crazy viking style stag do.
According to an article on The Sun's website, Dave Hunter, 32 (I love the way they always quote an age) an oil worker from Scotland, arranged a stag do for ten of the groom's best mates to dress up like Norse Warriors (Vikings, basically) and walk along the Banffshire coastline carrying tables, chairs, 40kg keg of beer, whiskey, food* and other materials to an old ruined castle called Findlater Castler.
Passing dog walkers who couldn't believe their eyes, these crazy Vikings trekked 3 miles to get to their derelict stag do venue.
Once they arrived they set up camp inside the castle and enjoyed a banquet of  Venison, Chicken, Sausages, potatoes, beer and whiskey a true Viking meal*!
Cold and ready for their beds, this wild stag do lit their flaming torches out of old clothes (probably soaked in kerosene) and stumbled back to their hostel in Cullen.
However, the fun didn't stop there, this very thoughtful group returned the next day to Findlater Castle to clean up and take their kit home.
After the wedding the stag pictures went viral with more than a quarter of million views on social media sites.
If you would like to do something unusual for your stag do, head over to our stag do homepage for ideas, inspiration and some unusual packages.
*We are not sure if Vikings made sausages but pretty sure they could get their hands on the rest maybe except whiskey but most definitely mead or beer.