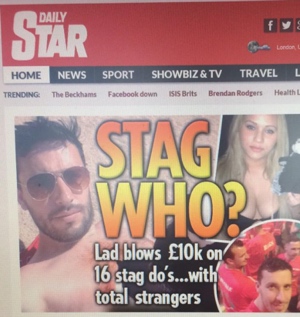 We have been chatting with Will Stevenson and his Badger Seth who are fast becoming a phenomenon around the world.
Will and Seth are basically Stag Do stand ins and we love them, if one of your mates drop out of your stag do, last minute, they will be your smart replacement, don't worry the badger won't need an airline ticket or an extra bed.
With a huge following on Twitter and Facebook, Will and Seth are now being following closely by daily national Radio shows and are also getting noticed by TV channels; these guys are becoming hot property, so we are extremely lucky and privileged to meet and ask them questions.
Before we go to the Q&A's, let me just say that he has been on the Scott Mills Show (Radio 1) loads of times and also on his live tour, Heart FM, XFM (Now Radio X), Radio 2, Dave Fenning's show on RTE2 (Ireland), Hit 107 (Australia), Radio New York (New York, USA obviously) and lots of other local stations – too many to mention.
Will and Seth have travelled well over 31,000 miles, attending over 16 stag dos, and have spent over an incredible £10,000 (mainly on booze – drinking responsibly, obviously), their full story can be found here.
OK, lets get on with the Q&A's:
What's your day job?
I'm an office manager for a same day courier company
How did you come about joining a stag group with complete strangers?
I was looking at buying some festival tickets for that weekend. And in the recommended section on eBay it brought up a place on a stag do for sale . I clicked on it just to see what it was , don't even know why I did. But it sounded great with all the activities they were doing . And it left locally from me so I thought I would bid. Never dreamed of winning it . I was actually outbid on it but later that day found out the guys from the stag do were actually out bidding me to try and get the money up . But after they confessed I paid them my maximum bid which was £400 and met up with them the next day .
How did the whole Seth thing start out? 
My email address has always randomly been willhasabadger so I decided to name My Twitter account the same as it sounded funny. I won a competition to meet Example from Pepsi and the guys at Pepsi asked me if I was taking my badger. So I got one and took it along. Unfortunately this badger was stolen at the Example gig. And so my son bought me another one as a present and we did a name deciding game on Facebook and Seth was the winner.
Did I see on your Facebook that you won him from one of those grab machines no one usually wins anything from?
Lol no. We were visiting an arcade and pretending that Seth was born there. Although i don't know for sure where he was born
I know you're 35, how old is Seth?
Seth was 1 earlier this year. But in badger years that makes him about 19
Is Seth a boob man?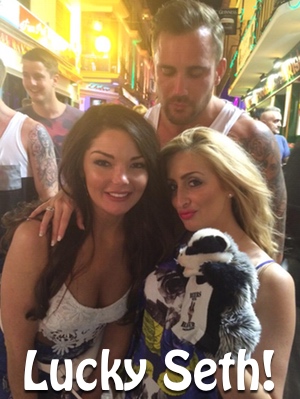 Seth is a definately a boob badger. And girls just love the feel of his fur on their cleavage 😉
Who is yours and Seth most famous follower?
We've had lots over the last year , with Scott mills and Chris stark being there through the journey. Also George Ezra , catfish and the bottle men , and axwell and ingrosso regularly tweet us .
Is your boss cool with you taking so much time off?
Yeah I always make sure work is sorted before I leave and do sometimes work a bit from which ever bar I'm in
If I wanted to book you and seth for a stag do how much would it cost me?
It wouldn't cost you to book me. I generally take the place of someone that drops out. I cover there costs of transferring my name , and will always help out with other costs such as the hotel room. I am also very generous when it comes to buying rounds. Seth however has the ability to get freebies 😉
Do you and Seth only attend stag do's or does he go to the wedding as well?
We've been to two weddings which is always an honour . For the guys to think I'm worth inviting after only knowing me a few days means that I must be doing something right
Have you got a Vegas stag do to go to yet?
Yeah I have Vegas to look forward to. Really can't wait it's going to be guys from all over the globe meeting up so it should be one long party
Do you only go to stags abroad or do you hit the uk hard as well?
Weirdly I've only been invited to one in the uk. Which was Blackpool . But I'm happy to go anywhere wether it's the uk or abroad
Did you ever think it would spiral like it has? 
Never imagined any of this . I was hoping to just have a good weekend away and maybe make a couple of new local friends . But to be on numerous worldwide radio stations and news channels and nearly every newspaper and Internet blog is surreal.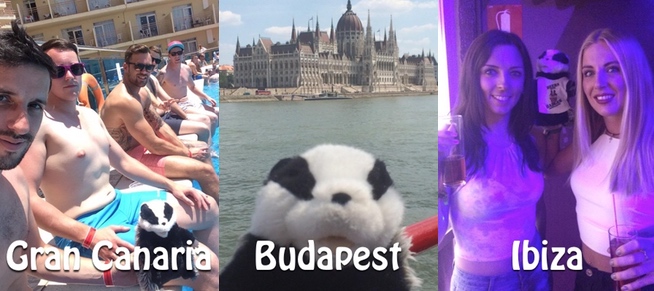 It was great chatting with Will and Seth and if you need to book them for your Stag Do then we suggest you contact Will via Twitter #willhasabadger .