Adventure and Stag Weekends go together like Cannon & Ball (one for the 80's), Brussels Sprouts and Christmas and Vodka Red ball.
So I have quickly compiled a top 10 (in no particular order) of DesignaVenture's top 10 selling Adventure stag weekends all based in good old Blighty.
First of all there is no better place within the UK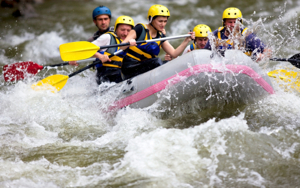 than North Wales for Stag weekend Adventure, with loads of mountains, rivers and immense terrain for motorised activities such as Quad biking there is no wonder why our stag package White Water & Wheels is in our top 10.
Then you have Nottingham, situation right in the centre of Britain making it our most central stag location. Our Rage Buggies, Bikes & Boogie stag package not only has some brilliant motorised activities but also has fantastic accommodation and superb nightlife.
Down the M1 you'll find Milton Keynes, not usually associated with adventure, but if you want snowboarding tobogganing or ski-ing all on real snow and then sky diving (both indoor) you will find adventure and some, with our most popular package in this American style town called Sledge & Dive Weekend.
Heading South to Bournemouth, there are two contenders both sitting at either end of the price spectrum however both extremely popular with our stag dos, they are Bournemouth Rocks which is full on and fantastic and The Bournemouth Offer Weekend, which is a cheap Stag Do as long as you can go out of season.
Heading even further South is the wild Cornish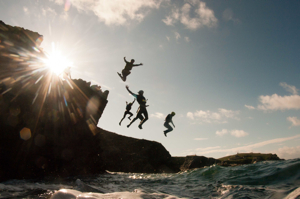 town of Newquay, the contender which includes Coasteering, is our very popular Adrenaline Junkie weekend, first created in 2003!
Going up the M5 to Bristol there is one stag package that our stag parties looking for adventure loves and that's the Bristol Gorge Weekend. This popular package includes Canyoning which is adventure with a capital A!
Going further up the M5/6 you have Chester and one adventure Stag Weekend which stands out a mile is the Non Stop stag package, with Rage Buggies, Laser Clay Pigeon Shooting and White Water Tubing this weekend sells by the bucket loads.
Moving up North again you have the crazy party capital of the North East, Newcastle. One stag adventure weekend which stands out a mile is the Guns, Karts & Dogs weekend. Paintball, karting dog racing and amazing nightlife will give you a Stag Weekend to remember.
Our furthest North stag destination where we offer full on adventure is Edinburgh and here you can find the extremely popular Absolute Splash Weekend. Not only does this stag package include white water rafting at one of the best sites in the UK but also cliff jumping which will get the heart pumping. You then have the nightlife of Edinburgh, which will then put hairs on your chest!