Newquay is without doubt one of the best stag do destinations in the UK,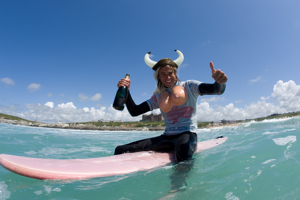 offering a humongous amount of unique daytime activities.
However, if you prefer to lie on the beach and watch the peaches go by, Newquay is also awesome for that.
Then there's the nightlife, banging bars, crazy clubs and a party atmosphere madder then Mad McMad who lives in a madhouse in Madchester.
In the day try your hand at Surfing or Coasteering both unique to Newquay and equally both, excellent fun.
Surf the Atlantic rollers whilst getting first class tuition from a genuine surfing champion. Wet suits, and boards are included you'll need to bring with you swimwear, a towel and balance.
Coasteering is an activity for the stag group looking for excitement and adrenalin. Travel up the rugged Cornish Coastline clinging to sheer rock faces, jump into deep pools and explore water caves. The jumps get higher and higher, at the end of the session you will meet the mother of all jumps which is a 60 footer, no peer pressure!!
Another stag activity which Newquay does extremely well is the old favourite, Quad Biking. On a track just shy of a mile long you can race your mates head to head. You will love the chicanes, adverse chambers and a long straight with a jump where you can go flat out and get some air.
Newquay is also home to an amazing outdoor karting race track. These twin engine karts can reach speeds of up to 70mph and the track includes a flyover, fly under and an extremely fast straight, 70 mph is extremely quick when you are that low to the ground.
The nightlife in Newquay mainly focuses around the square and the old sea road down to the beach. You will find an abundance of clubs and bars and some really good live bands*.
On some of the DesignaVenture Newuay stag do packages we include a guided bar crawl, you also have the option to add this in the enhance section, I cannot recommend this enough. This great nightlife activity includes entry into 4 bars with a shot and then club entry at the end of the night.
So if you're looking for a fantastic stag do destination in the UK with a great climate and amazing activities, Newquay is a fantastic choice, after all I had my stag do there!
*Live bands mostly play in high season