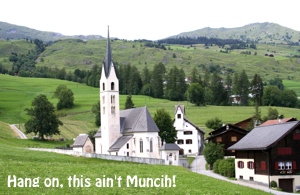 According to a hilarious article in the Evening Standard, a drunken Londoner swapped a Stag Do in Munich for a day out in Switzerland courtesy of lackadaisical driver.
Jordan Adams a 33 year old from London, stumbles out of a Munich club looking for a cab to take him back to his hotel, somehow manages to clamber into a luggage hold of a coach and falls asleep. 4 Hours later he's woken up by an irate coach driver "effing and jeffing" no doubt wandering what this silly Englishman is doing in the luggage compartment of his coach!
Jordan a company director who was attending his Brother in Law's Stag Do had to ring "her in doors", to get her to call her brother and explain where he was (she was very happy as you can imagine). He then had to go and speak to the Swiss police as he had no money, passport or phone to help him out. The Swiss police very kindly stuck him on a train back to Munich! Wasn't this a prank they used to on the stag, stick him on a slow ferry to Calais or similar?
If you have any funny stories, please send them though to dean@designaventure.co.uk plus any images you may have to back up your funny story.