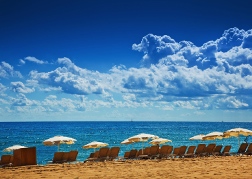 According to The Daily Mail, an Irish stag do turned into a man hunt then escape and invasion before being rescues by the Spanish fire brigade in Barcelona, and we are not talking about stag activities here.
The stag group had been drinking in the Las Ramblas area of Barcelona (where all the stags and hens head to at night), on their way home they stumble across a tiny cocktail bar in the old town.
The revellers party for a couple more hours in this tiny bar before being turfed out, only to wake up the next morning groom-less!
They manage to trace their steps back to the bar where they had been drinking the night before to find the groom pocking his fingers through the hoes in the metal shutters . The groom had fallen asleep in the toilet when the bar owner kicked the group out. No one from the group realised the groom was missing (wow how drunk were they?) and the bar owner didn't realised he had an unwanted guest in the toilet having a nap.
When the groom woke up he tried to get out only to find that he had been locked in with metal shutters between him and freedom, I could think of worst places to be locked into then a Catalan cocktail bar!
The stag group called the Spanish fire brigade who set the groom free so he could enjoy the remaining days of his holiday.
Did I mention he was dressed in a Tutu? What Else?
The lesson to be learnt from this funny mishap is – LOOK AFTER YOUR GROOM PEOPLE!
We offer lots of fantastic stag do packages to Barcelona, with or without flights we can help you organise a killer weekend to this amazing city.