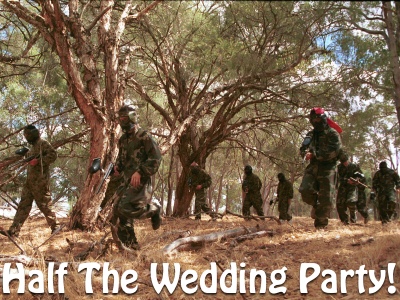 This is a story of a couple who wed in secret with 15 of their friends and family in Hereford Town Hall before splitting for a couple of hours whilst the groom attended his stag do!
As the wedding was last minute and Miles (the groom) didn't have time to arrange the stag, it was prearranged that the Groom would go and play paintball with his mates for his stag do between the ceremony and the evening party, apparently he was quoted saying that he has the best wife in the world!
So as Antoinette, "the ditched bride", had been dieting for months and had nothing to do for a couple of hours, she decided to take her friends and family to a carb fest at McDonalds!
And this all happened in our very own City of Hereford!
This story has also been covered by the Daily Star and Yahoo with the header, Bride jilted on her wedding day however this is incorrect and just sensationalised the situated in order to get people to read the story.
They then went on honeymoon to Tenby in West Wales however soon got bored and decided to ditch their romantic break in Tenby to an Action Packed Weekend at Alton Towers.