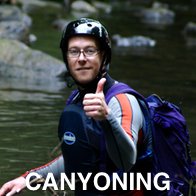 At 1.30am last Saturday morning in Manchester, a twenty two year old man, had been out on a Stag Do all day.
It was a very hot day and he decided to jump from 6 metres into the River Medlock and broke his ankle as the river was only three inches high.
Full story can be found here.
First of all, we are glad to hear he only broke his ankle and wish him the best for his recovery, secondly we would like to offer him and his stag group 10% off Canyoning, once his ankle gets better that is!
Not only will he be taught which parts of the river to jump into, he will also have a fantastic day of adrenalin and banter making it an amazing Stag Do memory.
Go to our Canyoning page for details, we offer this fantastic stag activity in North and South Wales and also up in Scotland.
On a hot sunny day and after a belly full of ale the last place you should be is jumping into a river, just keeping it real people.