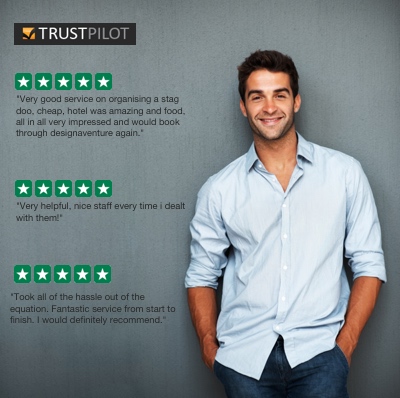 The Beatles said "All you need is love", which is very true, but not when you're trying to book a hen party, stag do or activity break.
If you are looking to book a break with DesignaVenture you will get loads of love that's guaranteed, but in order to get the break booked you will only need £30.00.
£30.00 will get your 2017 stag do, hen party or activity break sorted, you can then sit back, relax in the knowledge that all your mates will think you are a hero.
"So once booked, how do I get people to commit, because 2017 is a long time away?"
OK, I am glad you have asked me that question, we have a membership area on our website which you have the use of, just simply go to your booking and invite people to pay their £30 deposit – that way people have committed and put it in their diary and even started to budget for it.
What about the people that can't and won't use a computer or smart phone?
All they have to do is call us on 01432 830880 and quote your booking ID, we can then take payment over the telephone.
What other advantages are there to booking my stag do / hen party early?
Again, great question you are on fire this today!
Well, if you book before Christmas you will get this year's rates for next year
Usually there is plenty of availability with choices of activity times and hotels
The weekends are usually freer making deciding on a weekend well in advance easier
So for just £30 you can get your stag do or hen party off the ideas board and into the confirmed tray, giving you one less job to do next year.
Good luck!