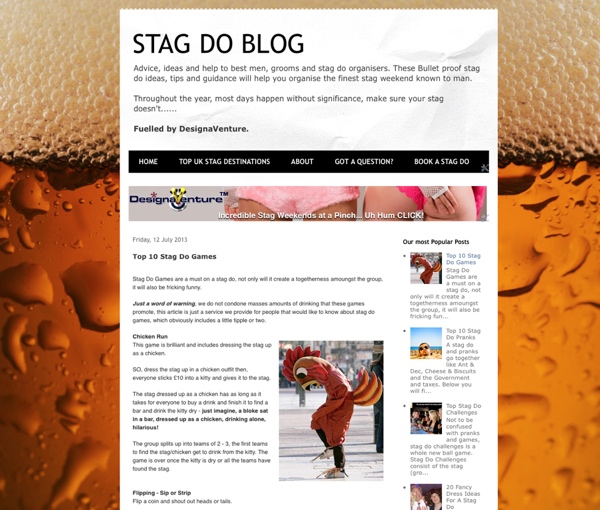 Did you know that we have a dedicated Stag Do Blog?
Since March 2011 this blog has been lovingly created with ideas, tips and advice for the best man or the main stag do organiser (not always the same person).
If you are in the process of arranging a stag do or need help in arranging one, this blog will give you inspiration, ideas, advice and most importantly, a good laugh.
Popular Posts include:
Should The Groom Pay For His Own Stag
To name but a few.
Arranging a stag do can be extremely daunting especially for the first time, or for a large group, you need as much help as possible.
This blog covers advice and useful tips across the board and we have tried to make it as neutral as possible not banging on about DesignaVenture's products every 5 lines.
You can also get involved add your comments or take part in the Survey on Should The Groom Pay For HIs Own Stag Do (link above).
So if you're in need of help, advice or simply needs ideas and inspiration pop over to our Stag Do Blog and let yourself loose, there are over 190 posts to catch up on, over half a million readers can't be wrong!