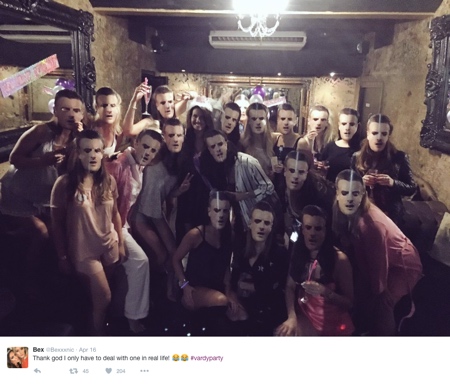 Jamie Vardy is currently all over the press at the moment being the leading scorer at Leicester who have almost won the Premier League, it's inevitable, isn't it?
There are also reports on his imminent wedding to a former nightclub promoter, Becky Nicholson.
Well Becky had her hen party at the weekend in Liverpool and she was greeted by 19 Jamie Vardy's!!!
Well I say 19 Jamie Vardy's I mean Jamie Vardy's masks, which she tweeted afterwards saying "Thank god I only have to deal with one in real life!"
Bad luck non-footie fans, football is going to be all over TV and press over the next couple months with the Premier League not being dominate by one of the giant teams, 2 British teams may feature in both European cups and then the Euros, which England, Wales, Northern Ireland and the Republic of Ireland all in with a chance of winning.
If you want to include football in your forthcoming stag do, head over to our football stag activities or our very popular Bubble / Zorb Football.
If you are already on a stag do with us over the Euros and want to know where you can watch that all important match give us a call and we can either book you into a bar or give you information on where you can watch the game.
Good luck!