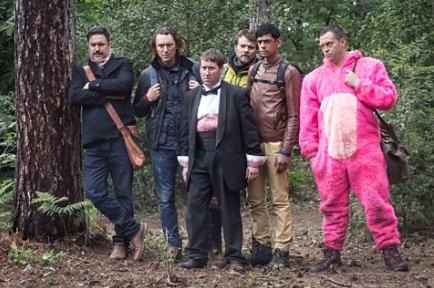 If you are at home tonight and fancy watching a dark comedy about a stag party being killed off one by one, then BBC 2 at 9pm tonight  is the place for you.
It's about a group going on a stag do to Scotland on a hunting trip when they turn from hunters to the hunted.
Directed by Jim Field Smith, who also directed the Wrong Mans, this 3 part series will hopefully have you crying with laughter and also hiding behind the sofa as the stag party gets ripped apart, literally.
Think of the worst stag party you have ever been on, with people you barely know or care about even after the weekend, this is one hundred times worst than that, however you may spot similarities!
If it's anything like the Wrong Mans we are in for a treat. If you are reading this late, there is always iplayer.
For further details and clips on the show head over to the BBC website – BBC Blogs – Stag.