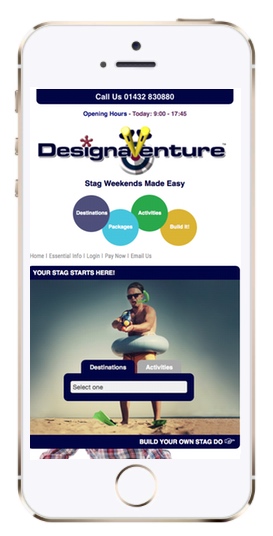 DesignaVenture has been working hard on the perfect website to suit all devices. It hasn't been easy, there's been shouting, arguing and even a punch up and that's just the boss in the stationary cupboard on his own, anyway we've finally got there and it's certainly impressive (feedback received from some of our customers we interrogated I mean questioned).
So what's new:
From our membership area  you can invite all your friends from your iPhone 6s, or Build Your Own stag do with your Galaxy S6, or even check to see who has paid with your Sony Xperia Z5, how many smart phones do you have?
What we are basically saying it's extremely smart phone friendly, apparently if you stay on the website it'll even charge your phone*.
Our new membership area has had a complete 'new look' making it a breeze to invite your mates to add on to the booking, send them payment reminders, share bookings and wish lists with them from any device.
We have also improved our very popular Build Your Own section, making it much more user friendly and easy to use again, with any device.
We have also introduced a new colourful top menu with finger friendly links to help you navigate around the website.
Whichever device you are on, you will find DesignaVenture's new website extremely easy to navigate around, and more importantly easy to understand. However behind all this minimalist and simple design is a huge amount of information at your finger tips, where you can still book online, contact us in all manor of ways.
Any other business – please bear with us over the next few months, whilst we do our snagging, as there will always be issues which do not raise their ugly heads at the testing stages, only once live. We still have phase 2 to come, which means more improvements to the navigation of the website, so watch this space.
*Simply not true