The Algarve is infamous for great weather and golf courses however, there are a lot more Stag Do ideas in The Algarve then just the golf.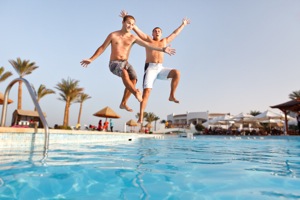 Staying in Albufeira (the liveliest resort on The Algarve, fantastic for stags) has a huge advantage, beautiful beaches and more nightlife then I can shake a stick at, and I won the stick shaking championship in 2011.
With a massive range of bars from cocktails wine bars, themed pubs to sports bars where you can get a sneaky pint and watch the match before dinner.
Restaurants in Albufeira are varied and full of fantastic quality dishes, even though you may not of booked your Stag Do to Albufeira for that reason at least you can get some decent nosh.
Then there's the huge mixture of lively clubs, from open air to air conditioned and gentleman clubs to clubs playing banging music  you can loose your mind to.
In the day there are loads of unique and popular Stag Do Ideas to keep the boys well happy.
One of the most popular Stag Do activities we offer in The Algarve is shark fishing. With hooks as big as your hand and reels strong enough to pull in a double decker bus you will be kitted out and ready to land Jaws.
Another activity popular with our stag parties traveling to the Algarve is the Captain Hook Cruise, spend the day chilling on deck with a couple of beers then dive into the crystal clear waters showing other stag and hen parties you have what it takes to dive in the next series of Splash.
When us Brits are in a hot country we tend to stay near water and what better place then at a water park. Bomb down spiraling chutes, float on lazy rivers and race your mates down large slides water parks are fantastic fun.
If you do like to spoil a good walk then The Algarve is renown for some excellent golf courses. With the sea breeze to contend with and no sign of rain this is a little different to playing in the UK, dare I say it, it's better!
So if you are in need of some amazing Stag Do Ideas and Inspiration for 2013, The Algarve / Albufeira is a great place to go.