Christmas starts officially today for the DesignaVenture office, and boy what a year!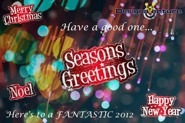 Thousands and thousands of stag dos booked through DesignaVenture which means a lot of happy customers, and just to show you I am not pulling your Christmas cracker check out our customer comments for 2011.
As we stick our stockings out for Santa, we wonder how many couples will get engaged this Christmas, after all it's a very popular time to pop the question. Other popular days to get engaged are News Years Eve, Valentines Day and the 29th February, which we have one in 2012 would you believe.
Christmas is also a great time to get back together with your old buddies and reminisce on stag dos of old and discuss new ideas for when your other single buddies decide to tie the knot (I don't mean to each other, but whatever floats their boat and all that).
New Year is one of the biggest nights to party either with a loved one or with loads of your mates. It is also the night where nightclubs charge an absolute fortune to get in and your local has security on the door charging entry to even the regulars.
However, the best New Year's Eve nights for me is; sat round a big table with all your friends chatting laughing and playing games, but doesn't it get annoying when Big Ben clangs his big bell and you have to go around 15 people kissing and wishing them a Happy New Year, it's hard work!
Whatever you get up to this Christmas just remember to enjoy it and don't put to much pressure on yourself for that one day, Merry Christmas to you all from the DesignaVenture team.