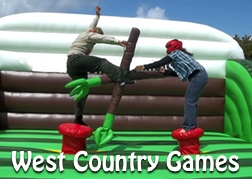 A Stag Do going to Bristol had a last minute drop out so instead of a no show they decided to auction the place on eBay.
According to an article on the Bristol Post website, these plucky lads from Andover booked West Country Games, Indoor Crazy Golf, bar, club entry and 1 night's accommodation for their Bristol Stag Do.
On their listing they included some advice for bidders saying that the person who agrees to go must be ready for the daytime activities dressed with trainers and socks for the West Country Games and must pay for their own food and drink all day. (Dressed in trainers and socks always makes me laugh!)
Apparently they had over a 1,000 views but the listing only went for £1.21 and was snapped up by a lady known as Josie. She couldn't do the whole Stag Do so met them in town for the Crazy golf and a few drinks around town. One of the group said, "like them, she loved the idea of it and did it for a laugh", however the group said the whole eBay stunt gave the weekend a great buzz.
Bristol is a fantastic UK stag destination and over the last couple of years has become extremely popular with stag and hen parties. With fantastic activities in the day and amazing nightlife, Bristol is possibly the busiest city for stags and hen travelling from other cities. For some  amazing stag packages get yourself over to the DesignaVenture bristol stag do section, where we have packages starting from £79.00 per person*, equally we also offer amazing hen party breaks starting from £95.00 per person*, you can view these packages here.
*Prices correct at time of publish