It's January and everyone in the UK are planning their holidays and breaks for twenty 12, stag dos and hen parties included.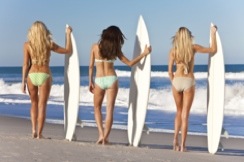 So where do you go for your last nights out as a single man or woman?
I went to Newquay on my stag do and boy what a weekend. We hit Newquay by about 3pm on the Friday afternoon, checked in to our hotel before running down the steps into the sea!
Now that is the beauty about Newquay, most of the hotels are within 5 minutes walk of the beach and loads of the bars and clubs have stunning sea views.
The atmosphere in Newquay at night is amazing, bars pump out music all night long with some bars serving cocktails others with outside seating areas overlooking the beaches or in the bustling square.
If you are looking for stag activities not necessarily available in other top stag destinations, Newquay takes the crown with full on activities such as Coasteering, Surfing, Beach Volley ball, Zip Wire to name but a few.
Newquay is also a place to chill, the beaches are clean with crystal clear waters ideal for taking a dip or messing around in.
Stag parties wanting to play 5 a side football, the beaches are perfect, there is ample of space and the playing surface is ideal for sliding tackles and diving fanatic goal keepers.
Popular stag activities in Newquay are also some of the best in the UK. Newquay boasts one of the best Quad Bike racing circuits in the UK, with over 30 bikes, even the biggest stag parties can all have a go at the same time.
You then have the outdoor karting, with twin engines, flyovers and fly-unders this racing track is nuts, furiously fast and immense fun.
Newquay is quite a distance to drive if you live up North, however there is an answer; fly, Newquay Airport is extremely busy, with daily flights from most UK airports including London.
So, nothing should keep you from have a fantastic stag do to Newquay.