Calling all Hen Parties looking for some vintage fun and maybe match your vintage wedding!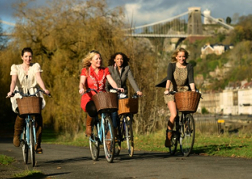 DesignaVenture has created a hen party to Bristol called Bicycle, Bicycle, Bicycle that includes 1 night in a city centre 4 star hotel, Vintage Bike Hire and a picnic.
The bike ride is fully mapped out on car free routes around Bristol and the great thing is, it's mostly flat.
So your Vintage Bike will have a bell and a basket in the front, which is lucky because we will be supplying you with a luxury picnic.
The picnic will be bulging with quintessential sandwiches, cakes and luxury treats. But hey, a hen party without music is like seeing Ant without Dec, so that's why we have included an iPod dock so you can pop on your iPod / iPhone and eat the beat.
You are also provided with vintage crockery, glassware and cosy rugs to park your bums on.
So if you are in need of some vintage fun on your hen party to Bristol, DesignaVenture has got the very package for you.*