If you are looking to book a Stag Do and need ideas and inspiration may I just advise you that the DesignaVenture new website is packed to the rafters with ideas, fantastic stag packages and activities.
When you arrive at our Stag Do page you are greeted by some amazing images of what our stag weekends are full of, and that's full on activities, whether it's in the day or by night.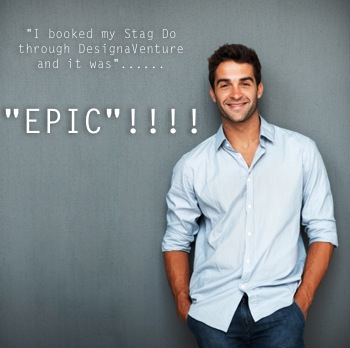 Above these fantastic images you have the navigation menu which stays with you pretty much throughout the website, with a little "You are here" sign which tells you which section you are in.
Below the images you have our top 10's, everyone loves a top 10 so we have gone with Top 10 stag Do Packages, Destinations and activities.
Then further on down the DesignaVenture stag do homepage you can find little widgets such as Got A Budget, Stag Dos under a £100 per person, tempting offers, customers comments and so on.
The Knowledge centre covers all our sections (Stag Do, Hen Party and Activity Breaks) and is a VAT of information from details of how to book, to organising tips, best man advice and your peace of mind when booking your Stag Do through DesignaVenture.
In the next few months we will be adding even more features to our website which includes a customer sign in section where you'll be able to view your booking, paying on line for you and the party (optional), your wish list,  your build your own itineraries and much much more.
So if you are looking to book your Stag Do for 2013, rest in the knowledge that you have found the right place.
Did we mention that we are currently one of the only Stag Do companies with a 5 out of 5 star rating on Trustpilot?
No?
Best shut up then, we don't want to blow our trumpet too much, gets annoying.