If you are looking at booking a Stag do in Bristol this year, you will not be disappointed.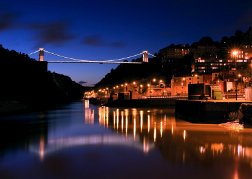 Bristol is becoming a top stag weekend location; loads of stag parties are celebrating their last few days of single life in this West Country carrot crunching capital.
So let's see why this is the case.
First of all, it's an easy city to get to, whether you are travelling by train, plane or automobile you will have no dramas.
Then you have some amazing daytime activities.
If you are on a stag do you have all the top stag activities any self respecting stag party will want to do.
You can drive extremely fast rebel and rage buggy off road karts, race head to head on quad bikes or indoor karts or fly some hovercrafts around a challenging course.
OR, if you prefer a shooting activity, Bristol also you will also be catered for which include clay pigeon shooting, paintball and crossbows, which is regaining popularity and you will see why when you shoot a bulls eye.
The nightlife in Bristol is also extremely varied and should cover almost every group's tastes.
If you're a fan of big chain pubs, bars and restaurants you will find these in abundance. The waterside is a great place to hang with a fantastic atmosphere and in the summer outside seating areas over looking the busy waterways.
If you want a quieter night, head to Clifton for great student style pubs or independent bars and restaurants. Then you have Cabot Circus, which has loads of restaurants from Burgers and Grills to Asian modern style eateries.
All our bristol stag do packages include 4 star hotels with full breakfast each morning, how cool is that?
One stag told me "Bristol has everything London has except the traffic, now that's a recommendation if ever I heard one!"