One of the most popular stag weekends in the UK we sell, is the Horse Racing Weekend.
Whether you choose Ascot, Chester, Bath, Cheltenham, Chepstow, Newcastle, Nottingham or Newbury one thing's for sure, you are more or less guaranteed a fantastic Stag Do.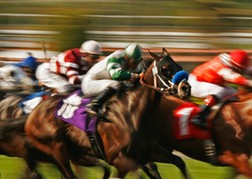 I say more or less, as you might back a donkey or two, but hey don't let that put a downer on your weekend, the thrills and spills of a Horse racing event will cheer you up.
You don't have to be an avid racing enthusiast to back a winner, and if there are a few Pro's in the party, get some tips.
But let's just make one thing clear here, it's just not all about the racing, there are bars, restaurants and groups of hen parties adding to this popular stag event.
One of the top racing events of the horse racing calendar year is Royal Ascot. The best of British days out with an appearance from the Queen, well it's not called Royal Ascot for nothing you know.
Dress up smart and really impress the ladies, as they will be looking outstanding in high heels, summer dresses and weird fascinators or posh hats.
Other race days, which are extremely popular, are Plate & Ladies day in Newcastle and the infamous Cheltenham Gold Cup.
On most of DesignaVenture's Horse Racing Stag Do Packages you will find 3 – 4 star hotel accommodation with breakfast, return transport to the Races and maybe a club or two to visit in the evening.
So if you are looking for a stag do which is a real winner, pick one of our popular horse racing weekends in 2013.