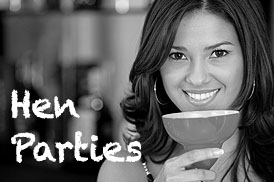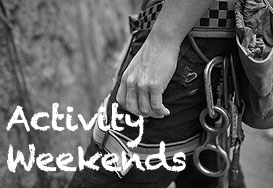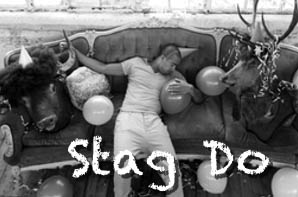 Stag Do Ideas | Stag Weekends
Been doing anything exciting this weekend?


Our Groups, Stag Dos and Hen parties have:

They've blasted across rugged mountain terrain on Quad Bikes', shot through an ambush as they tried to win their game at paintball, sped round chicanes in Rage Buggies or some simply had a luxurious spa day and became glowing pictures of health and vitality.

Whether you're after an adrenalin rush or a relaxing activity, our memorable Stag Dos, Activity Breaks and Hen Party Weekends are a perfect combination of first class accommodation and superb activities - day and night.

To All Budding Best Men

So you're the chosen one, the Best Man, you are the trusted one with the ability to stand up in front of an audience and quote quirky antidotes about the groom's past, with maybe the odd sprinkling of some of the stag party antics without managing to cause the first tiff in the marriage?

Where to start

Let us help you out, take a good look at our destinations list situated on the left hand side of this page.

For example if you are looking for a Bournemouth stag do, then click on Bournemouth which takes you to our most popular ready-made packages in Bournemouth. Simply click on the package link for further details on that specific stag weekend package.

Book Your UK Package

Once you have decided on the package you would like call us on 01432 830880 or book on line.

We require a single deposit of £60 and a rough idea of numbers. For further details please go to how to book.

Every destination offers excellent stag do ideas with prices starting from just £45 per person, perfect for stag parties on a budget or that last minute stag night.

About some of our great destinations

Rage Buggies, Bikes and Boogie based in Nottingham is one of our most popular ready made stag weekends.

Nottingham is a buzzing city that caters for all your stag do requirements, home to the infamous Robin Hood, so put archery on your list of things to do. Other stag activity favourites include Quad Biking, Race Karts, It's a Knockout, a Night at the Dogs, Comedy Club, Lap Dancing the list goes on and on.

Our UK coastal destinations are full to bursting during peak season particularly Bournemouth, Brighton and Newquay.

One of our most sought after stag activity weekends in Newquay is the Adrenaline Junkies - this is perfect for the party looking for a combination of lively activities and excellent nightlife.

If you fancy Surfing, Coasteering or even Zip Wire then Newquay is definitely the place for your stag do plus the sandy beaches are a great place to chill.

During peak season (usually May – September) most coastal resorts will only accept 2 night bookings BUT it's always worth asking the question if you're a last minute stag party booking or just need one night.

Reading, possibly not the first place that springs to mind for a stag weekend, when you book to go here you'll discover exactly why it's in the top 5 stag do destinations, with it's cracking daytime activities, rich nightlife and up market town centre hotels. Our stag activity weekends in Reading include Hovercrafts, Rage Buggies, Clay Pigeon Shooting and Jet Skiing.

With cheap internal UK flights, Edinburgh has become a far more accessible city to hold your stag weekend. Your party can choose from the extremes of cliff jumping or adrenaline rushing rage buggy racing to a more chilled choice of a whiskey tour.

Edinburgh nightlife is everything you would expect from this dynamic cosmopolitan city really you could do with a week here not 1 or 2 nights!!!!

Bristol is an absolute must for a top quality stag do, you'll be staying at one of the many 4 star hotels we offer in the centre of this vibrant city, with stacks of awesome motorised daytime activities at ridiculously low prices, it's no wonder Bristol has earned a well deserved place close to the top of our top 5 popular destinations.

To find out more about any of DesignaVenture activities, packages or destinations and to discuss your plans with us personally pick up the phone and give us a call 01432 830880
Latest News

Stag Do With A Big Heart
Feb 24 2015
We have always tried to cover the 'good news' Stag Do Stories and this story which featured on the evening express website is right up our street. A stag party will be driving 3,000 miles to raise cash for Cancer Research. They have decided to take part in the Barcelona Bangers Car Rally which takes [...]
Mark 'n' Miche Reveal Their Stag / Hen Destinations
Feb 13 2015
Mark Wright and Michelle Keegan, the UK's most Beautiful couple (she is a real stunner and he is more ripped then a pair of jeans from Latvia) have revealed where they are going to celebrate their pre nuptials. I know you cannot take the suspense anymore, so thanks to The Mirror for spilling the beans [...]
Stag Prank Goes Viral
Feb 05 2015
Another Stag Do prank goes viral, this time the crime scene is at Budapest airport and the prank weapon, a dildo! The poor unsuspecting stag was on his way home from a Stag Do in Budapest when his bag was searched by Hungarian airport security. The airport security spotted a bottle of water by the [...]
Sin City For Ant & Dec's Stag Do
Jan 27 2015
Ant and Dec have been spotted in Las Vegas on a mate's Stag Do just before they picked up their National Television awards. They were spotted cruising the infamous Las Vegas strip before eating at Gordon Ramsay's Burgr restaurant which is in the Planet Hollywood Casino. The popular pair was also papped playing golf and [...]
Bookings Go Through The Hoof
Jan 21 2015
At the DesignaVenture towers this week I have managed to pull Dani out of the sales team for 2 minutes to find out exactly what's going on in the land of stags and hens. My Questions are in black, Dani's answers are in red: Hi Dani… Look what do you want I'm busy? Alright Dan, [...]
What We Do

What real customers think of us:
Dec 2014
Simon Rubery ~ Reading: Horse Racing Newbury